Discussion Starter
•
#1
•
Hi everyone, today I did the RR door actuator, but only changed the motor ([FONT=&quot]mabuchi FC280PC 22125 off ebay)[/FONT] The lock was working intermittently and I know it will fail soon.
Steps: The first 6 steps are similar to removing the front doors with less screws and no mirror:
http://www.mdxers.org/forums/18-maintenance/39188-door-panel-removal-pics-too.html
1) Windows should be up and have the radio code before disconnecting the battery.
2) There are 2 screws to remove. One is by the inner handle and the other in the armrest cavity. There are plastic covers over them you need to pry open.
3) After you remove the inner handle screw, you need to push that unit forward and it will come loose but you need to pry the plastic hinge off the rod.
4) Pry open the courtesy light and then turn the light socket until it comes loose.
5) The switch panel with the window control can be pried loose starting near the back. When you loosen it, there is a connector you need to disconnect.
6) There are 8 clips than you need to pry to get the door loose. I have attached what they look like and where they are here. I used a trim pad remover and started near the bottom.
7) Peel back some of the white sheeting. There might be optional screws near the center to remove.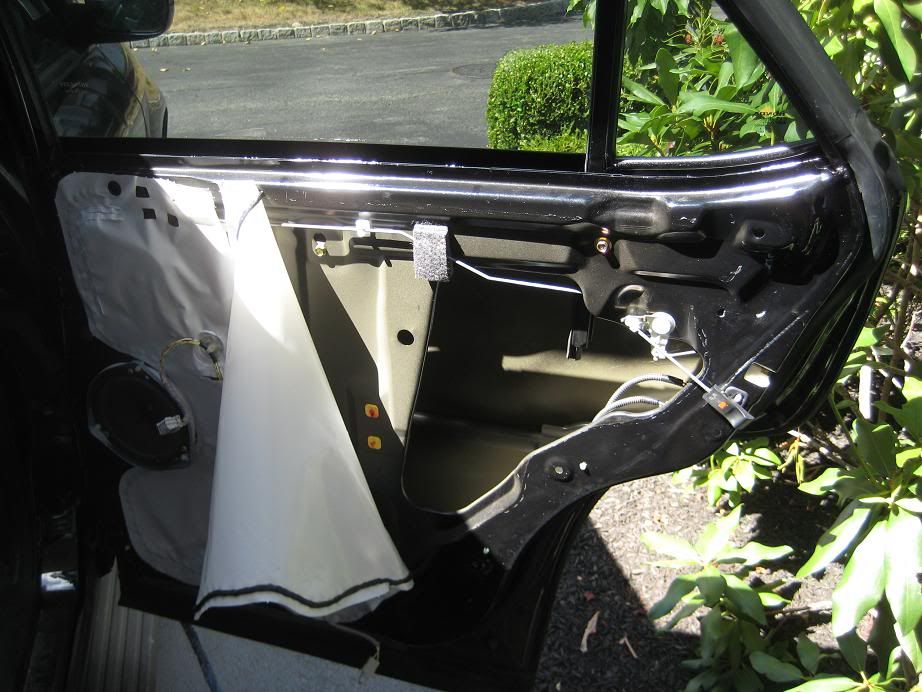 8) Looking into the door we see the actuator with the 2 connectors. Disconnect them. There are 2 screws that holds the actuator in place BUT there is a black plastic protector over it. It is tough to see in the pic but when you look at it you will see a little silver screw. That needs to be removed first and then the plastic cover will come right off. Then get those 2 screws off and you will be able to fish the actuator out. The door lock tab should be down so that it is easier to get the hinge off the hook. You will see what I mean.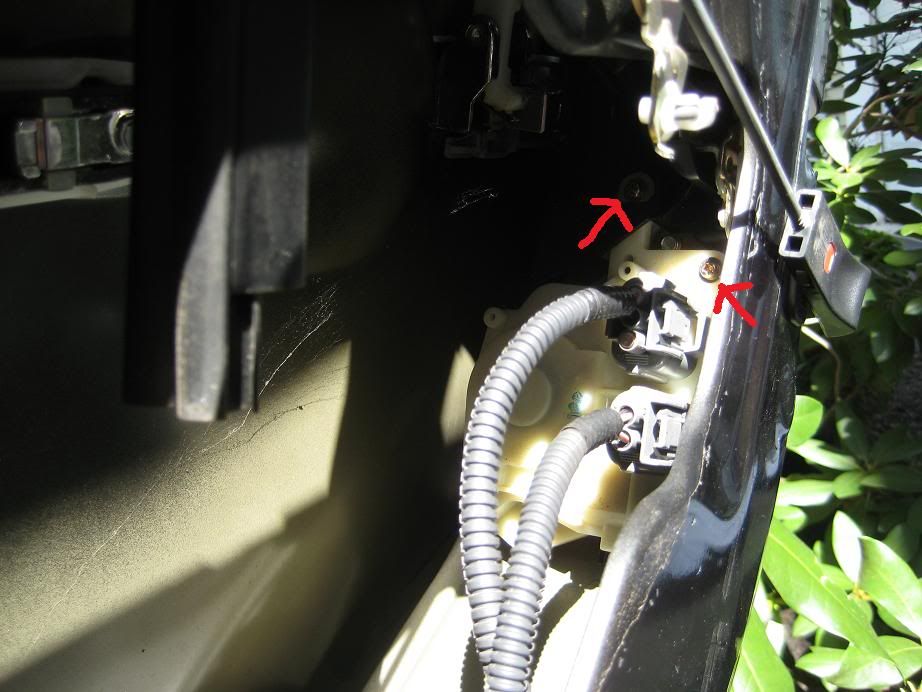 9) Remove the 5 screws and carefully pry open the actuator by using a flat head screw driver in the space between the 2 black rubber thingies. DO NOT let the BIG white wheel/gear fall out. It is under tension and is tough to put back.
10) Inside the actuator is that motor:
I replaced the motor exactly like the way this guy (not me) did in his video for the lexus GS (starting at 2:00):
Remember when you close up the actuator, test that the white lever moves. If not open it again and reposition it a little and try again.
I'm just pleasantly shocked I fixed this for like $10 (motor) and $15 (gear puller) and about an hour of my time.
[FONT=&quot]
[/FONT]
[FONT=&quot]
[/FONT]