Registered User
Join Date: Dec 2012
Posts: 12
2013 MDX & MirrorTap
---
Has anyone installed a blendmount with mirror tap for their radar detector on the current gen MDX with autodim mirror?
I would like to know exactly where the red and black pins would go. I tried a bunch of different combos but no luck, and i dont have a voltage meter.
If anyone can tell me exactly where to put the red and black pins i would be most appreciative.
Thanks
Registered User
Join Date: Apr 2012
Location: Dallas, TX
Posts: 153
Perhaps this will help. I removed my factory mirror and installed one with a built in compass. I have a 2012 Tech with the back up camera display on the nav screen in the dash.

The three wires I found on the mirror harness were

PIN 1 Pink 12+ Ignition
PIN 2 Black Ground
PIN 3 Tan 12+ Reverse

Pin 3 only gets power when in reverse for the auto dim feature of the mirror. Check your mirror harness and see if the 2013 is the same as my 2012. The hot in ignition and the ground should be in the same pin position on yours I would imagine.
Some info from Invisicord.com:
Customer Additional Notes:

Received invisicord and just wanted to let you know what wires worked on auto-dim mirror wiring harness. Black slot is ground and pink slot is switched power. Note: there is also a brown wire.... ignore it. Hope this helps someone else.
For 2011, the 2010 directions were exact. The mirror has three cables: pink, brown and black

black went to black and yellow went to pink

the brown cable wasnt touched
Just what ls said.
---
08 X Sport/Ent -- Sterling Gray/Ebony
03 X Touring/RES -- Taffeta White/Saddle
02 Honda S2000 -- Berlina Black/Black
99 Acura RL -- Naples Gold Metallic/Parchment
12 Toyota Avalon Limited
12 Toyota Highlander V6
16 Lexus GS350
Registered User
Join Date: Dec 2012
Posts: 12
Hmm, there are more than 3 wires going into my mirror.

If memory serves me correct there is a green, brown, white, red, black, black/red, and one more that is dual color.

Unfortunately i don't remember any pink. Ill take a look again later tonight.

Also, the pins from the mirror tap seem to be a bit big. I have no trouble inserting them into an empty hole, but when i try with one that has a wire already, i can only get in just a bit, lets say half way at most. Dont know if that is enough, and maybe part of the issue?
Registered User
Join Date: Dec 2012
Posts: 12
No pink wire, at least i dont see it. Here are the best pics i could take, maybe this could help.
Registered User
Join Date: Dec 2012
Posts: 12
ok guys... finally got everything working.... and man what a pain in the ass.

first off, got a hold of a buddy with a voltage meter... problem was that the pins were too big fit into anything... so improvising, we put in christmas ornament hooks, on the opposite end of the plug (opposite the wires), and found the ground wire, and the 12v wire.

For future reference for everyone.... it is the solid GREEN WIRE (the 12v) and the BLACK/RED wire in the middle (ground).

Problem was i couldn't get good contact with the tips of the mirror tap. So we grinded them to make it a bit thinner. The pins still didn't go in all the way, but made contact, and didn't feel like cutting some off either. So i just electric taped whatever was exposed (in a neat fashion) and installed everything to my content.

Only thing is that the back cover of the rear view mirror (which i have never seen before in a car, not even my '12 tsx has it) cant be put back on... but its not like you can see anything because of the mount and radar detector.

Anyway i will post pics up of the completed work when i get a chance, as the wife had to go to work, and enjoy the spoils of my work.

I hope this can be of help to people in the future who run into any issues.
Registered User
Join Date: Dec 2012
Posts: 12
Here are some pics of everything mounted.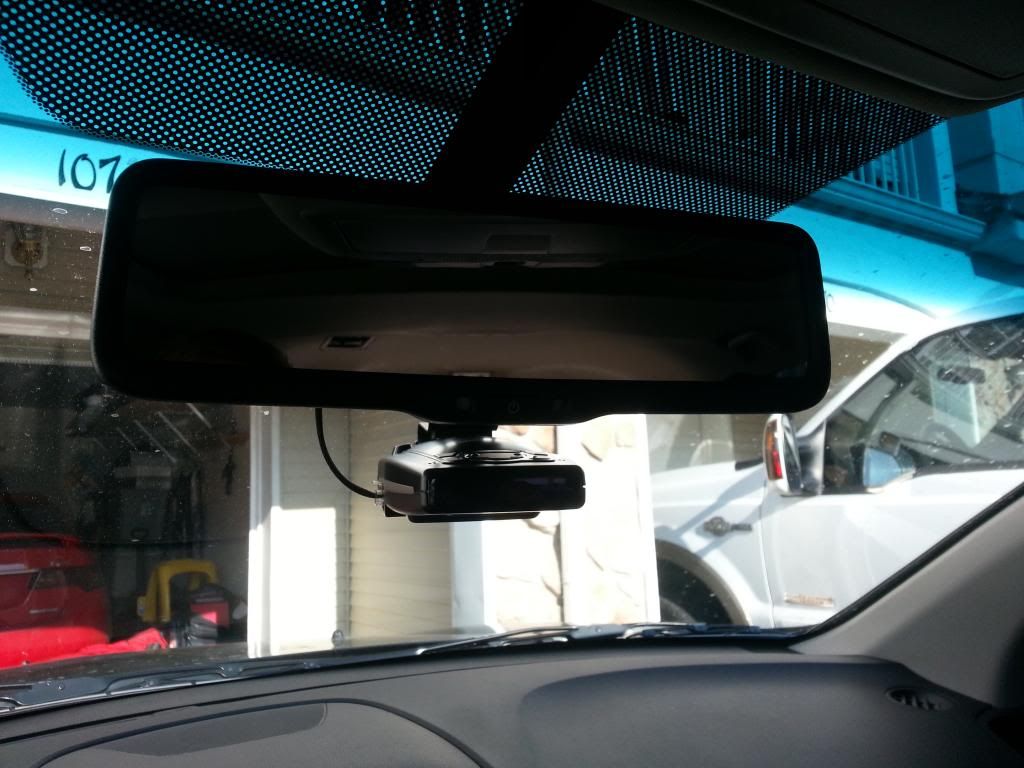 Not bad!
---
08 X Sport/Ent -- Sterling Gray/Ebony
03 X Touring/RES -- Taffeta White/Saddle
02 Honda S2000 -- Berlina Black/Black
99 Acura RL -- Naples Gold Metallic/Parchment
12 Toyota Avalon Limited
12 Toyota Highlander V6
16 Lexus GS350